Dennis Lopez 60/92 Round Profile Wheels / Coffin / Stake Allen Wrench Keychain
$

60.00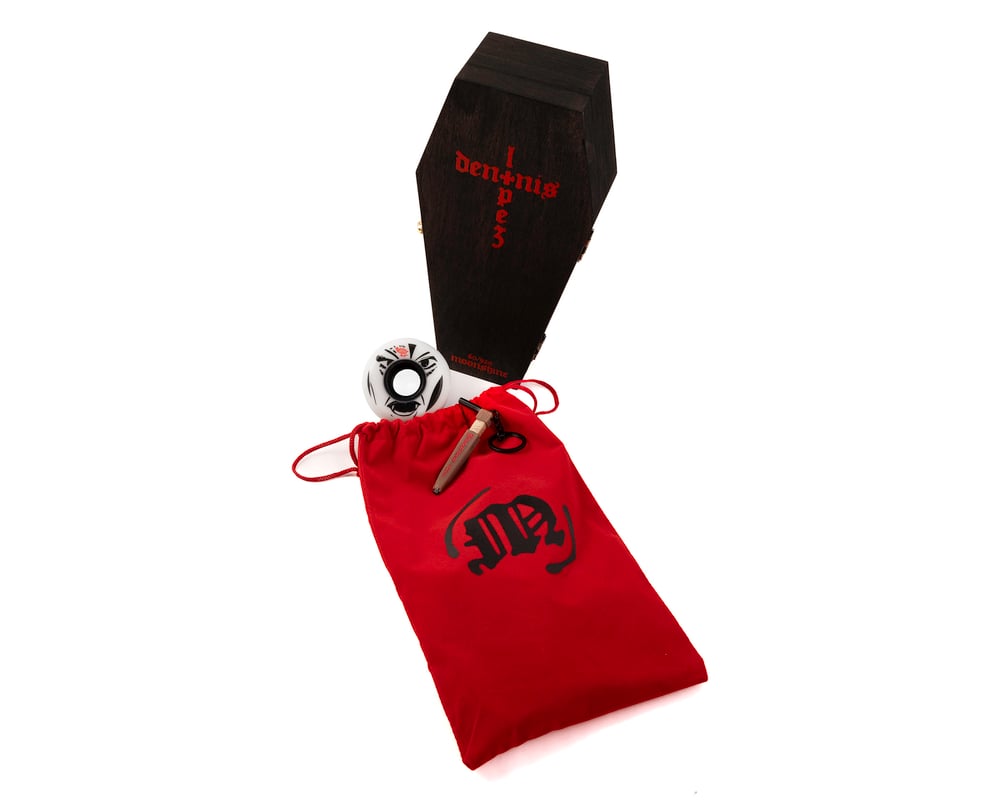 Dennis Lopez' pro wheel has been an on going project for over a year now and we're proud to finally release it.
@switchwizzou can be very mysterious and always presents himself with the same well calculated moves, sophistication and charm as Count Dracula.
Dennis is a wizard when it comes to swivels so he chose to go with a harder 60/92a wheel with a rounded profile for stability and ease of sliding.
What makes his pro wheel release unique is that we've enclosed his wheel in a real wooden coffin that has been hand dyed by Moonshine Owner Juan Martinez and then had Dennis' cross logo screen printed by a rollerblader owned company, @thestreetpress. We took it a step further and placed the wheels in a red velvet bag featuring a reimagined version of the Moonshine M insignia, meant to mimic the velvet lining you would see within Dracula's coffin. We could have probably stopped there but wanted to push the envelope and hopefully the skate industry even more by designing a wooden stake keychain that not only looks cool and fits the theme but doubles as a functional skate tool that you can keep with you at all times. It houses a standard 4mm Allen wrench and is designed so if the wrench becomes stripped one day, it can easily be replaced. Each stake has been hand painted and assembled by Juan as well. He tries his best to be as hands on in these wheel projects as possible and when the task calls for something outside of his scope, he loves to involve his more talented friends especially ones that rollerblade. This and all of our previous releases could not have been done without them.
We really hope the skating community likes what we've created and look forward to continuing to release products that perform and stand out.
Includes:
4 Wheels 60mm/92a
1 Wooden Coffin
1 Velvet Bag
1 "Wooden" Stake Allen Wrench Keychain
Share